Meet the Residents:  Class of 2025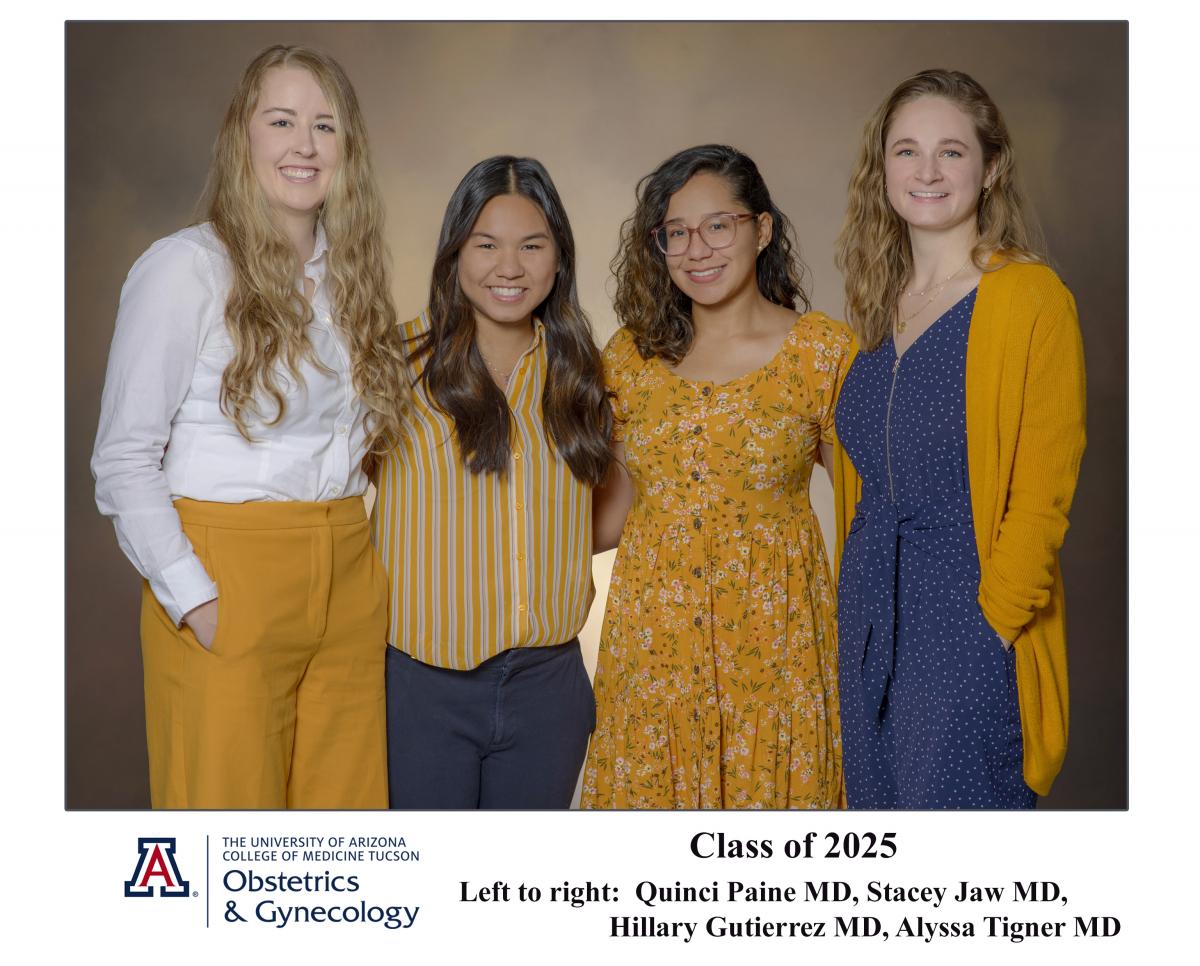 Quinci Paine, MD          
          Undergrad:  Montana State University
          Med School:  University of North Dakota School of Medicine and Health Sciences
         Where are you from?    
         Bigfork, MT
Why did you choose UA Obstetrics and Gynecology?   
I loved the idea of being closer to the mountains and I had two mentors who graduated from the program!
What is your favorite thing about living in Tucson?   
The food has been great and I've been loving the proximity to outdoor activies 

What are your interests or hobbies outside of medicine?   
Dogs, plants and anything outdoors

What are your professional interests within obstetrics and gynecology?    
I am passionate about rural medicine and supporting clinical research in rural medicine.
Favorite way to spend a day off?   
Hiking with my two dogs, practicing any of my many outdoor hobbies, taking a nap and eating some great food/drinking a beer
Favorite restaurant in Tucson?   
Anything Stacey Jaw reccommends! Still exploring all the great food options
Favorite Vacation Spot?
Glacier National Park
Top "Bucket list" item?
Would like to do the rim to rim hike in the Grand Canyon

Favorite Hike or outdoor activity in AZ?
So far Mount Lemmon has been a great opportunity to get out of the cactus and into more familar alpine landscape - it feels very Montana-y for Arizona!
Favorite Arizona getaway?
So far haven't had too much of a chance to getaway, but Sedona is on my list!
     Hillary Gutierrez, MD            
          Undergrad:  University of Southern California
          Med School:  California Northstate University College of Medicine
          Where are you from?  
          Pico Rivera, CA
          Why did you choose UA Obstetrics and
          Gynecology?   
          I wanted to train at a close-knit program with an amazing group of residents serving a diverse patient population. 
What is your favorite thing about living in Tucson?   
Great food and beautiul scenery.

What are your interests or hobbies outside of medicine?   
Running, hikinh, sports, reading. Eating!

What are your professional interests within obstetrics and gynecology?    
Planning on becoming a generalist. Diversity, equity, and  inclusion. Mentorship.  

Favorite way to spend a day off?   
Sleeping in, getting some vitamin D, and treating myself to a prickly pear margarita. 

Favorite restaurant in Tucson?   
Hmm, hard to choose. El Chinito Gordo is one of my favorites!

Favorite Vacation Spot?
Hawaii

Top "Bucket list" item?
Run a marathon. 

Favorite Hike or outdoor activity in AZ?
Star Pass.

Favorite Arizona getaway?
Exploring Phoenix