Dawei David Wang, MD       
Med School: Saint Louis University
Residency: University at Buffalo
Where are you from?    
Toronto, Ontario
Why did you choose UA Matneral-Fetal Medicine?   
Great collegial atmosphere with supportive attendings with a wide range of clinical and research opportunities
What is your favorite thing about living in Tucson?   
Wide range of food and outdoor activity options. Never need to shovel or deal with snow and ice
What are your interests or hobbies outside of medicine?   
All sports- baseball, hockey, golf and football and watching documentaries 

What are your professional interests within Maternal-Fetal Medicine?    
All aspects of maternal conditions especially diabetes and labor management
Favorite way to spend a day off?   
Exploring Tucson to find a new restaurant/bar and new trails
Favorite restaurant in Tucson?   
Charro Steak- fantastic appetizers and happy hour
Favorite Vacation Spot?
Costa Rica
Top "Bucket list" item?
Go to every NFL stadium

Favorite Hike or outdoor activity in AZ?
Watching sunset at Saguaro National Park
Favorite Arizona getaway?
Scottsdale for city and Sedona for nature
  Giovanni Sisti, MD       
Med School: University of Bologna (Italy)
Residency: Bronx Lebanon Hospital (NY) and Lincoln Medical and Mental Health Center (NY)
Where are you from?    
Italy
Why did you choose UA Matneral-Fetal Medicine?   
Great work-life balance, long history of the medical school
What is your favorite thing about living in Tucson?   
The chill environment
What are your interests or hobbies outside of medicine?   
Collecting train models.

What are your professional interests within Maternal-Fetal Medicine?    
Hypertensive disorders of pregnancy, preterm labor
Favorite way to spend a day off?   
Gym and swimming pool
Favorite restaurant in Tucson?   
Tavolino
Favorite Vacation Spot?
Italy

Favorite Hike or outdoor activity in AZ?
Running in my neighborhood
Favorite Arizona getaway?
Sabino Canyon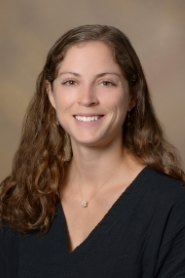 Laura Mroue, MD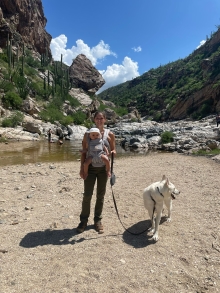 Med School: Wayne State University
Residency: Wayne State University/Detroit Medical Center
Where are you from?    
I have lived in Michigan in the metro Detroit area my entire life prior to moving for fellowship
Why did you choose UA Matneral-Fetal Medicine?   
I felt that this program would provide me with both strong training, as well as the ultimate work-life balance. I'm someone who really cares about enjoying my life outside of work, and Tucson has so much to offer. Also, the residents and attendings here seemed really kind and down-to-earth, and they truly have been amazing.
What is your favorite thing about living in Tucson?   
The never-ending opportunity for outdoor adventure. Every day is sunny and perfect.
What are your interests or hobbies outside of medicine?   
I love biking, rock-climbing, hiking, board games, baking, playing with my baby or dog, bonfires with friends. 

What are your professional interests within Maternal-Fetal Medicine?    
Right now I just like all of it, I still feel like I have so much to learn and its all so interesting that I couldn't pick one area of focus. But, I do have an interest in global health and would like to use my MFM training overseas.
Favorite way to spend a day off?   
Wake up and hike or bike, go to brunch or the farmer's market, spend some time at the pool, buy a new plant, have my husband grill dinner for me and friends, and then play board games while drinking a good cocktail/wine.
Favorite restaurant in Tucson?   
Don't have one yet! Still so many to explore.
Favorite Vacation Spot?
Anywhere new!
Top "Bucket list" item?
Travel to all the countries of the world.

Favorite Hike or outdoor activity in AZ?
Sabino Canyon since I can walk there from my house.
Favorite Arizona getaway?
Excited to try Sedona, but still enjoying exploring Tucson for now.