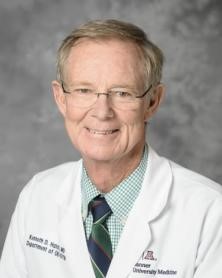 The Department of Obstetrics and Gynecology at the University of Arizona regrets to announce that Kenneth Hatch M.D., Professor Emeritus and former Chair, Department of Obstetrics and Gynecology at the University of Arizona's College of Medicine – Tucson, passed away after a short illness this past November 2020.
Dr. Hatch earned his medical degree at the University of Nebraska College of Medicine in 1971. He completed a residency in Obstetrics and Gynecology followed by a fellowship in Gynecologic Oncology, both at the University of Alabama at Birmingham. As a member of the US Air Force, he joined the faculty at Alabama prior to his recruitment to the University of Arizona in 1989. During his tenure at COM-T, he served as residency program director, division chief of gynecologic oncology, and as department chair. 
Dr. Hatch's many innovative accomplishments include the introduction of laparoscopic approaches to gynecologic malignancies, leading the first randomized clinical trial testing the effectiveness of this approach, having performed the first radical laparoscopic hysterectomy for cervical cancer in 1994. This procedure revolutionized the field and continues to be used worldwide today as the standard approach to gynecologic cancers. One of the many books he authored is Hatch's Innovations in Gynecologic Laparoscopic Surgery. Also, he was among a few surgeons who treat early stage cervical cancer by radical trachelectomy, thus allowing young women the potential for future fertility. In addition, he was a primary investigator in the HPV vaccine trials that lead to FDA approval of the HPV vaccine. Dr. Hatch's academic career spanned five decades, and included hundreds of peer-reviewed papers, chapters and books published to improve women's health care.
His surgical expertise, innovative techniques and distinctive, unique publications, combined with his zeal for education have touched innumerous trainees and has undoubtedly improved the "worldwide" care of women with gynecologic cancer. He will be sorely missed by all.
Dr. Hatch retired in March 2020. He was well-liked and highly respected by all, including his patients, trainees, fellow faculty and research collaborators. He was a gentle soul, with an intense commitment and dedication to women's health and to the department he helped develop.
Dr. Hatch is survived by his wife Rhea, two children (Lara and Scott) and 5 grandchildren (Payne, Camille, Aiden, Jamie and Kaylen).